Meet Dr. Rick Weidenbener, the newest member of the MCJR team! Dr. Weidenbener is a non-surgical sports medicine specialist who sees patients exclusively in our Bloomington office beginning in mid-October 2023.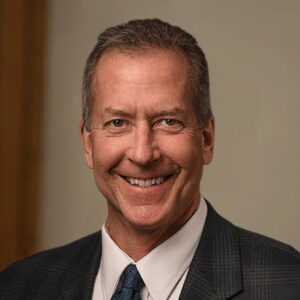 Dr. Rick Weidenbener is a board-certified orthopedic sports medicine specialist based in Bloomington, IN. He has been treating athletic injuries in adolescents, high school and college athletes, and adults for over 35 years. Weidenbener graduated from Indiana University for his undergraduate and the IU School of Medicine for medical school. He completed his residency at Ascension St. Vincent in Indianapolis, then finished his training with a fellowship in sports medicine at Forté Sports Medicine and Orthopedics (formerly Methodist Sports Medicine).
Weidenbener most loves being able to keep his patients active and physically fit through all stages of life. He himself is an avid outdoorsman who enjoys golfing, gardening, camping, alpine skiing and high altitude hiking. He has climbed four "Fourteeners" in Colorado and, in 2017, completed a trek to Mount Everest Base Camp in Nepal.
Weidenbener and his wife Lisa have five children and currently live on a farm in Bloomington as empty nesters. He spends some of his time serving as a team physician for Bloomington High School North football.
To schedule an appointment with Dr. Weidenbener, please call the MCJR main office at 317-455-1064.