Born and raised in Evansville, Indiana, Dr. Wesley Lackey attended Vanderbilt University where he earned a degree in Violin Performance and also fulfilled his pre-medical requirements. Then, he attended Indiana University School of Medicine in Indianapolis. During his time in Indianapolis, Dr. Lackey met Dr. Berend through their church, and they continued a friendship through the rest of Dr. Lackey's education.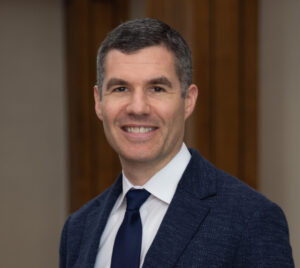 Afterward, Dr. Lackey moved to South Carolina to complete his five-year orthopedic surgical residency with the Greenville Hospital System. Then, he returned to Indianapolis and completed a hip and knee fellowship under the tutelage of Dr. Berend. Lackey and Berend have been in practice together ever since. Dr. Lackey has also traveled internationally with Operation Walk, a Christian medical mission organization performing free joint replacements around the world. Outside the operating room, Dr. Lackey enjoys spending time with his lovely wife, Gillian, their son and daughter, and their spirited Westie, Parker.
Hear from Dr. Lackey directly:
If you would like more information on Dr. Lackey and or our practice, please call us today at (317) 455-1064.